klausschgaguler.net
| | | | |
| --- | --- | --- | --- |
| High altitude Training: half way... | | | |
Written by Klaus Schgaguler
Sunday, 17 July 2011 20:45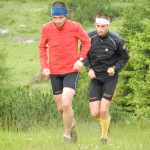 After 1 week up here on Passo Rolle it is time for a short summary: 19h of training 160km and 7200m of climb. We did a lot of slow long runs, but also faster orienteering trainings, uphill running exercises and of-road intervals.
Maybe the hardest session was yesterday's long jog, where we spent almost 4 hours running in the mountains with more than 2200m of climb.
Last Updated on Monday, 18 July 2011 08:02
Read more...
| | | | |
| --- | --- | --- | --- |
| EOC Qualifications: the unexpected one | | | |

Written by Klaus Schgaguler

Wednesday, 16 May 2012 16:30

EOC Qualification races are over and i qualified for just 1 A-Final. After a middle distance qualification with 2 bigger mistakes and a long distance with a lot of small ones, the sprint qualification today was finally good enough to make it to the final on Saturday.

Sprint Qualification:


Long Qualification:


Middle Qualification:


p.s. added some eoc pictures to my gallery

Last Updated on Wednesday, 16 May 2012 15:33

| | | | |
| --- | --- | --- | --- |
| High Altitude on Passo Rolle | | | |

Written by Klaus Schgaguler

Tuesday, 12 July 2011 13:53

Yesterday I arrived at Passo Rolle, a nice place someone may remember for the good weather during JWOC 2009 long distance day. I will stay here together with part of the national team for 2weeks preparing for WOC in high altitude. It is the first time for some years now I will not do my WOC high altitude preparation on Seiseralm. But there are much better possibilities to do orienteering here and it is nice to train together with the other runners from national team. After this first 2 days of "warm-up" (1h45min of easy jog yesterday and 2h15min today) we will do some longer runs in the mountains but also some orienteering training and intervals in the next days.

Some more pictures here

Last Updated on Tuesday, 12 July 2011 21:36

| | | | |
| --- | --- | --- | --- |
| Gallery Problems - Solved! | | | |

Written by Klaus Schgaguler

Wednesday, 05 November 2008 21:56
Unfortunately we had some problems with the gallery component and therefore with pictures and maps. The problem has been solved now.
Last Updated on Thursday, 06 November 2008 00:59

| | | | |
| --- | --- | --- | --- |
| 10mila summary, DM Sprint and EOC preparation | | | |

Written by Klaus Schgaguler

Friday, 11 May 2012 22:09

After 10mila i stayed in Stockholm for some days and some trainings with my culb mates of IFK Lidingö. On Wednesday i run the Stockholm district campionships in sprint. It was quite some time i have not been running a sprint like this so i was a little slow in doing decisions. But for the rest a quite good race.

Then it was time to go to Dalarna and prepare for EOC. We arrived at Vikarbyn yesterday afternoon and it was raining since then. I like the swedish spring!

We did 2 trainings today and the terrain was just soooo nice. Looking foreward to the next days.

 

P.S. i updated the 10mila article with a short summary of my race.

 

Last Updated on Friday, 11 May 2012 22:46
«

Start

Prev

1

2345678910NextEnd »
Page 1 of 17