| | | | |
| --- | --- | --- | --- |
| 10mila summary, DM Sprint and EOC preparation | | | |
Written by Klaus Schgaguler
Friday, 11 May 2012 22:09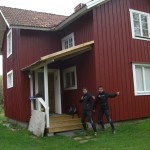 After 10mila i stayed in Stockholm for some days and some trainings with my culb mates of IFK Lidingö. On Wednesday i run the Stockholm district campionships in sprint. It was quite some time i have not been running a sprint like this so i was a little slow in doing decisions. But for the rest a quite good race.
Then it was time to go to Dalarna and prepare for EOC. We arrived at Vikarbyn yesterday afternoon and it was raining since then. I like the swedish spring!
We did 2 trainings today and the terrain was just soooo nice. Looking foreward to the next days.
P.S. i updated the 10mila article with a short summary of my race.
Last Updated on Friday, 11 May 2012 22:46