Written by Klaus Schgaguler
Sunday, 18 November 2007 21:21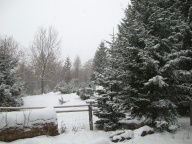 This morning the first snow fell here in Graz. So I could do my weekly long jog in very nice snowy environment running up the Schöckel (highest "mountain" in the surrounding area). I really enjoined the lonely and quite run. A good way to conclude my first tough week of training. The motivation is great at the moment!
Written by Klaus Schgaguler
Sunday, 11 November 2007 10:11

Last year I came to Venice for the first time after at least 8 years. After running the sprint on Saturday I was looking forward to my first MOV in senior class. But in the evening I became sick and I had just to be a spectator the day afterwards.
So it was for this years edition I looked forward. But this morning, when I wanted to start to Venice, I didn't feel well either, and I decided it wasn't worth to risk loosing some week of preparation, just to run this competition.
So my Venice comeback is postponed to next year!

Written by Klaus Schgaguler
Sunday, 11 November 2007 09:16
It has been a while since my last post. In the last three weeks I tried to start the preparation for next year in a little different way.
Read more...
Written by Klaus Schgaguler
Monday, 22 October 2007 21:15
Last weekend I traveled to Sonnberg near Linz for the last national competitions in Austria for this year. It was time for night championships and the final competition in Austriacup. Even if i don't consider myself a night runner, recently i started experiencing a lot of fun in night trainings and competitions. That was also why i came to Sonnberg with high expectations. And the weekend was not bad for me.
Read more...
« StartPrev111213141516

17

181920NextEnd »
Page 17 of 21