Written by Klaus Schgaguler
Friday, 20 June 2008 10:56

After the two trainings in the Norwegian rain we did yesterday, i'm feeling ready for the World Cup races today and tomorrow. Despite a quite heavy blow i got on my knee yesterday during the model event i feeling ready for this two competitions.
Here you can find the maps from the two trainings yesterday (thanks to Mats Troeng for his nice GPS tool):
As you can see, had some problems with the terrain in the first training, but it was a little better on the model event, until i had to stop at nr. 8 because i crashed a stone with my knee...
Live results can be found on the o-festivalen homepage.
Written by Klaus Schgaguler
Thursday, 19 June 2008 15:45
I had some days of rest in Stockholm after the hard Jukola weekend and also some time for analyzing my race. After the good result from last year for sure we all expected more than "just" a 11th place. But i everyone in the team did quite a good race, so we can be satisfied with the result.
Unfortunately i lost some positions on my leg, so that could not claim a position within the top 10.
Read more...
Written by Klaus Schgaguler
Tuesday, 10 June 2008 20:29
... (or a little after that) is the time i will be running on Sunday morning if everything goes well for the team during Saturday night. I'm looking forward to run the last leg for our first team in Jukola, the worlds biggest relay. After the great performance from last year we are all expecting a lot from this competition. I am sure that we have a great team also this year and that we will do well!
After the final (physical) preparations today and tomorrow, i'm flying to Finland on Friday together with some Italian friends running for the skodeg-o team at jukola.

That's what i remember from last year: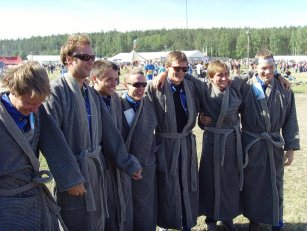 Written by Klaus Schgaguler
Sunday, 08 June 2008 21:16
It was a wet weekend. Orienteering Pergine was very unlucky with the weather for their (for the rest perfekt) organization of the last national competitions before the summer brake. It was raining both days.
As expected, the sprint IC on Saturday was really fast city orienteering with some short tricky controls in the beginning. And as feared, i was not able to match the best italian sprinter. Giancarlo Simeon won in front of Alessio Tenani and Andrea Seppi. I was 9th, more than 1 minute down. Lost many seconds on the first short controls and did a stupid mistake to control number 13. I was disappointed, because i didn't expect to loose so much time.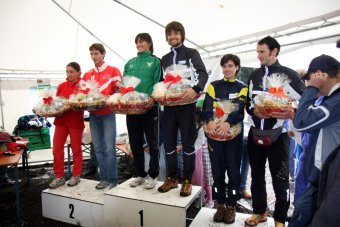 Today was much better for me. The terrain was what i like: steep and though slopes. I did a perfect race, except for a stupid mistake at control number 18 where i lost almost 2 minutes. Nevertheless I managed to win the race 1:30 in front of Marco Seppi. My Clubmate Michele Tavernaro was third. I'm very satisfied with the first and the last part of the course, both physically demanding, where i managed to run at really good speed.
Results can be found here: http://www.oripergine.it/index.asp?pg=8
« StartPrev1112

13

14151617181920NextEnd »
Page 13 of 21