Written by Klaus Schgaguler
Monday, 30 May 2011 08:06
Last weekend the Italian team had 2 selection races for WOC. Two competitions in most relevant terrain (yesterday just between WOC qualification an final maps ) with a very good international starting field where used for this purpose.
I had two quite ok races, but I am making still too many mistakes in this kind of terrain. We will stay in France until next Saturday. So I have almost one week to work on this.
Maps:


Written by Klaus Schgaguler
Wednesday, 18 May 2011 20:35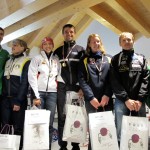 What can I say? I finally had a good run without bigger mistakes in an important competition this year. What a big relief!  And then the run was even good enough to win the title. A perfect end of some good days spent on the Asiago plateau.
After the 2 days of good training I felt ready for the weekend. The qualification race on Saturday was ok, but still too many mistakes to be happy and feeling well prepared for Sundays challenge. Thanks Chiara for the helpful talk on Saturday afternoon.
It was raining on Sunday, as expected. I love to compete in the rain. Well, getting prepared and warming up is terrible, but once you have the map in the hand it is just fun.  I wanted to have a safe start and to get the orient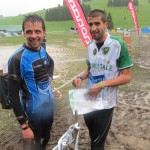 eering mechanisms working well. The first 3 controls where quite easy and the speed high. So I started to feel confident. Some smaller loops and stops on the next controls until the map change.  From that point I had an almost perfect race. I started to catch the runners started before me. Save route to nr 13. A little more speed and risk on the next controls. Pushing hard uphill to nr 19 and 20. What a great feeling at the second last control when I had just to run down to the last and to the finish.
Maps: challenging terrain and good courses:
first part

second part

Written by Klaus Schgaguler
Friday, 13 May 2011 13:40
I was offered the possibility to come to Asiago with the Austrian national team for some training this week.  It has been some time I was here last time and I wanted to get used to this kind of terrain before Italian champs this weekend. So here I am.
Route choice training and 2 sprints yesterday and control picking today so far. One more training this afternoon then I will be ready for the middle distance qualification tomorrow and the final on Sunday.
Maps:
Langabisa

Turcio

I really enjoy the terrain here and looking forward to this weekend's challenges.
p.s. pair training training in the afternoon

Written by Klaus Schgaguler
Sunday, 04 July 2010 21:38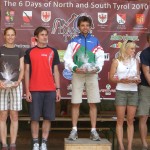 After a not perfect race yesterday, my lead in the over-all melted down to just one minute. So the goals for today where 2: try to conserve some time of this advantage in order to win the 6 Days and being fastest of the Austrian runners. I succeeded in both.
I had a good start, took the best route to the first control and did not have any bigger problems in the first difficult controls (3-6). When I came the second time to this most demanding area of the map I was maybe not careful enough. I missed control 10 (the center of the butterfly) and also 2 controls on the first butterfly loop.
Read more...
« StartPrev12

3

45678910NextEnd »
Page 3 of 21