Written by Klaus Schgaguler
Wednesday, 12 May 2010 09:58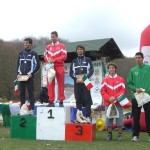 Last weekend I traveled to Subiaco near Rome for a competition I had selected as one of the most important in the first part of the season: national middle distance championships. Even if preparation during winter and spring was not the best I felt to be ready for the challenge. Model event on Friday was good. Nothing unexpected. Fast forest and quite easy orienteering. In the qualifier on Saturday I tried to make a good start and to run at full speed for some controls in the beginning in order to test the routines for Sunday. I had a clear race and won my heat. Therefore I could start last in the final on Sunday.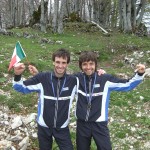 I had a good start into the competition and technically a perfect race, where my only mistake was about 15m or 10sec at control nr 8. But the feelings about running speed were all but good. On the steep and long uphill parts I had to walk much more than expected. So I came to the finish not exactly knowing how happy to be about my race. I was third, one minute down on winning Marco Seppi and 2nd Giacomo Seidenari, who was just 2 seconds behind the winner. Good to have Jack back in the really top of Italian orienteering. Both of them did a very strong race without big mistakes. So I am happy with my final position and the medal. But I am a little disappointed with the not optimal physical performance on Sunday. I tried to find the causes. Was it because of the altitude (1500m) I was not used anymore, did train too hard last week between 10mila and middle distance champs or was it the long travelling? Or am I simply not yet ready after an all but optimal winter preparation. The only thing I can do now is to look forward and to train hard for the next challenges.
Maps:
Grazie Carlotta e Manuel per le foto!