Written by Klaus Schgaguler
Monday, 26 April 2010 11:35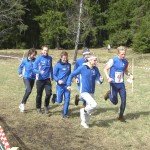 2 days of nice weather (apart the 10 minutes of snow/hail when changing after the first training), good trainings in beautiful terrain and a successful competition. What more to expect from a weekend?
On Saturday I went to Finspang with Rachel and Graham since we didn't have the possibility to train there last weekend with the rest of the club. The plan was to do two trainings sessions at moderate speed to get used to the terrain and still not to be too tired before Stigtomta we were running on Sunday.
I felt immediately comfortable with the terrain and didn't have any technical problems even if the speed was a little higher towards the end of the morning training. Looking forward to 10mila!
Training Maps:
Saturday evening we where following our club mates competing in the first part of Stigtomta relay on the internet. After the end of the night legs it looked really good for IFK Lidingö. The first team was leading with 2 minutes and other 2 teams were within the first 10. I was supposed to run the first day leg in the second team, but since Graham did not feel well in the morning I got the possibility to run in the first team in his place.
Since I was running alone in the lead I tried to take it easy and to avoid any mistakes. I succeeded in doing so until the 2nd last control, where I was standing just 2 meters from the control without seeing it. Even if the runners in the pack chasing me where running really fast, I managed to keep some seconds of the margin I had at the start. Fredrik and Anders running on the last 2 legs did a fantastic job (as the rest of the team did) and managed to win the relay with margin. Nice!