Written by Klaus Schgaguler
Sunday, 09 September 2007 17:29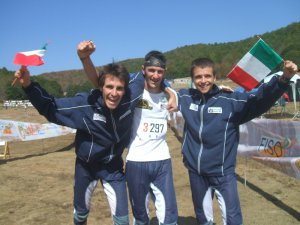 In the end we succeeded! Gronlait Orienteering Team was made to win this race. But it was a really hard fight. US Primiero had a great team today (Carlo Rigoni, Manuel Negrello and Giancarlo Simion) and where leading for most of the race. Only in the end of the last leg our anchor man Michele was able to pass them and bring the victory home for us.
But from the beginning. Jack has a solid race even with some small mistakes and send me out in 2nd spot, 5 minutes down. I did a good race with just some small mistakes in the end and was able to bring in a couple of minutes before the last leg. I had the fastest leg time today. Despite still not feeling so strong fiscally, I'm happy with my performance.
I could not do less than publish a short statement of the hero of the day, Michele Tavernaro: "I pushed hard from the beginning. When i saw Simion, i knew he was missing. I look him into his eyes, in order to put some pressure on him. I took my control and then pushed hard not to give him any change to catch up again..."
Results:
1st Gronlait Orienteering Team 2:23:54
2nd Us Primiero 2:27:50
3rd CUS Bologna 2:37:16
Here the link to the map with my route choice.