| | | | |
| --- | --- | --- | --- |
| My first Ski Mountaineering Competition – on know Terrain | | | |
Written by Klaus Schgaguler
Sunday, 08 February 2009 20:38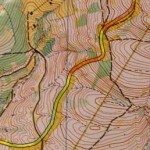 On Friday I took part in my first ski mountaineering competition.
It is the 2nd year I am using this sport for strength and endurance training in winter time. I'm really enjoying it: great landscape, good fun with friends and hopefully also good training.
The competition took place in Meranzen, a place my Italian friends should know. 10 Years ago we had national competitions there. I always liked this place and performed well, so also this time.
Even if I have been competing in different sports, this time was something different. I have never seen a competition like this before and did not know what to expect. The course characteristics where 6 km with 800m of climb – not really steep therefore. But the start was crazy: everyone was starting so fast and after the first 100m of race e found myself in the last quarter of the field loosing already another 100m from the best. Fortunately after some time I found my right pace and could make up quite some places. In the end I was satisfied with my race (48 minutes) even if I lost a little more than 10 minutes from the winner. Will for sure be better next time ;-)
But now my bag is packed and I am ready for Spain!
Last Updated on Sunday, 08 February 2009 21:46