Written by Klaus Schgaguler
Thursday, 06 May 2010 11:05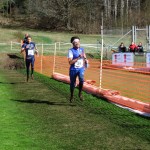 As I wrote earlier, i was very dissapointed not to be selected for IFK Lidingös first team for 10mila. But it was quite easy to motivate for a good run in 2nd team. The composition of our team was well studied and all my team mates where prepared for the job. The organization around the team was perfect. Everyone was motivated and our goal was to be the best 2nd team in the competition.
Giacomo had a perfect start coming back from the first leg with the leading pack. Also all other runs during the night where very stable and so I was send out in 27th position. I managed to gain one place in the sprint finish and so we finished 26th, best 2nd team. When I saw my teammates waiting for me at the finish I felt really like running in the first team. Thanks for giving me this nice starting position. Brilliant weekend with IFK Lidingö girls winning 10mila!
What to say about the race. Maybe I started a little too slow, because I was afraid of the length of the leg and I did some small mistakes in the central part of the course. But in generally i had a solid race I can be happy with.
Now it is time to prepare for the next challenges. Italian Middle distance championships this weekend.
My 10mila map: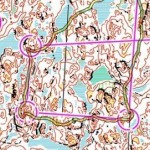 Some pictures from 10mila (thanks Jack)
Last Updated on Thursday, 06 May 2010 12:34