Written by Klaus Schgaguler
Monday, 16 February 2009 20:45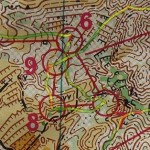 In the end of a hard week of training in the Alicante area I took part in the Trofeo Costa Blanca. The competition consisted of a middle distance race on Saturday, also valid for world ranking and a long distance on Sunday. Furthermore there was the possibility to run a sprint prologue on Friday afternoon . The weekend started quite well for me. Even if I had some problems to find the last control I had a good sprint race and finished on 6th place, 45 sek from the winner Daniel Hubmann.
Saturday was even better. This time I had problems on the second last control where I forgot to read the control description and searched on the wrong site of a small hill. Just stupid! But the rest of my race was good. The terrain was really nice and the course great fun! I managed to keep my speed high all the way without any big mistakes. So I finished second, 1 minute behind the strong winner Csaba Gösswein.
The long distance on Sunday was quite hard. Even if the course characteristics did not look that bad (11km + 400m climb), the terrain and the weather made it a difficult race. It was much colder than the days before and the light rain made the stony ground even harder to run on. I had some problems on the longer route choices and lost some time on my direct route to 17 and when running around to 25. So I think I have to exercise on that. But the rest of my race was quite ok. I finished 3rd in the long distance and won so the 2 days.
Some pictures and maps from the rest of the Spanish Training Camp will follow soon.
Results:
- Sprint
- Middle
Last Updated on Monday, 16 February 2009 23:22